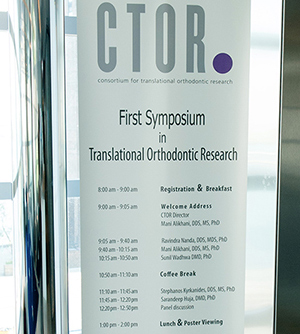 First Symposium in Translational Orthodontic Research
In October 2012, CTOR hosted its first symposium at the Apella Center in New York City.
The symposium was an enormous success with an all-day program of oral presentations, panel discussions, and poster viewing, followed by an evening reception.
Faculty, students, and orthodontists from North America, South America and Europe came to present their research and share ideas.
CTOR would like to thank everyone who was able to attend, for making this event such a wild success.
We would especially like to recognize Columbia University, University of Connecticut, SUNY Stony Brook, and University of Kentucky for their participation.

Photo Gallery
To enlarge picture and/or to start slideshow, click on a thumbnail below.

Speakers
Ravindra Nanda
Speeding Orthodontic Treatment - Perceptions of Patients and Orthodontists
Mani Alikhani
Bone Response to Mechanical Stimulation
Sunil Wadhwa
The Effect of Vibration on the Rate of Orthodontic Tooth Movement
Stephanos Kyrkanides
Pain, Not Just a Symptom but a Cause of TMJ Disorders
Sarandeep Huja
Applications of Bone Remodeling to Clinical Orthodontics
Pradip Shetye
Midface Distraction in Growing Children with Syndromic Craniosynostosis
Mildred Embree
Improving TMJ Fibrocartilage Regeneration
Cristina Teixeira
Gene Therapy and Orthodontics
Poster presenters
Asma Almaidhan
The neural crest specific inactivation of Ldb1 causes cleft of secondary palate
Salem Al-Moammar
Effectiveness of Non-Thermal Plasma on Shear bonds of Orthodontic Brackets
Bandar Alyami
Accelerated Orthodontic Tooth Movement From Rat to Human
Michelle Chou
Role of Foxo1 in Chondrocyte Differentiation
Aieman Jazaierly
In vivo Gene Response to Synthetic Bone Mineral used to Minimize Bone Loss in OVX Rat
Behnam Kamvari
Identification of Factors Common to Craniofacial Defects and Other Birth Differences
Mohamed KarKuri
Effect of Time and Initial Stress on Orthodontic External Root Resorption
Edmund Khoo
Engineering Growing Bone
Chris Murph